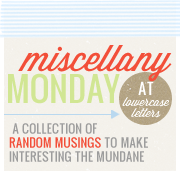 Welcome to another edition of Miscellany Monday!
One. I am slowly starting to get the grip of things when it comes to baby h.
Two. We drove to my parents house last Thursday.
Three. between both of them and my bother, I don't have the oportunity to hold baby H that much.
Four. My parents dispute to hold her.
Five. when ny niece and my nephew are here there are no dispute. There are pelnty of babies to hold ; )
Six. I am enjoying the fall weather here. I woke up to wonderful 55°F.
Seven. I went a little over board and I bought a lot of easter decoration.
Eight. Hubby is not going back to France.
Nine. I am extremely happy and so is he.
Ten. To celebrate my return to the blog world, a little phone picture of baby H.