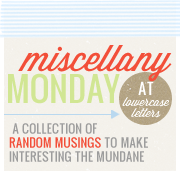 Welcome to another edition of Miscellany Monday.
1. I am so happy I am getting myself organized enough to post two or three times a week.
2 I had a haircut on Saturday.
3. It feels so good.
4. I hope I can grow it out soon.
5. I'm getting a massage this evening.
6. I am feeling so tired on this 8th of my pregnancy.
7. I wish I could have stayed up to see the Golden Globes last night.
8. But with 6 hours time difference, no way I will be up that late.
9. Only 03 more weeks before maternity leave.
I hope you have a great week.