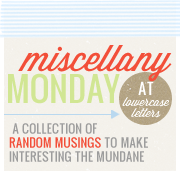 Welcome to another edition of Miscellany Monday. If you are new to my blog, welcome!!!
1. Brazil was defeated last Friday on World Cup.It was expected but everyone was so SAD!!!
2. The sadness disappeared on Saturday (by noon), when Los Hermanos were BEATEN by Germany!!!! Go Germany !!!!! (Sorry Stephanie).
3. I baked some brownie on Saturday, just because I wanted!!
4. I was officially diagnosed with Ibuprofen allergy!!! Bye, bye Advil!!!!
5. I twisted my ankle and felt on the middle of a busy sidewalk. And I have two really PURPLE knees, and a sore arm, and a really sore foot!!!